Dublin-Worthington News Stories
June 20, 2019 Board Meeting Highlights
Tuesday, June 25, 2019
By: David O. Hansen
Discussed: Preparations for the July 4th Picnic.
Accepted: Resignation of Dawn Lehman from the Club.
Discussed: Eleven new prospective Club members.
Approved: Donation to Polio Plus that matches contributions of club members.
Approved: Replacement of Jim Miller on club board by Jennifer Best.
Approved: Future board meetings to be held on third Thursday of the month.
Discussed: Board Buddy Plan pairing board members with club members.
Discussed: President Elect John's attendance at Rotary International Conference.
---
Board Buddies
Monday, June 24, 2019
By: John Butterfield
In April our club's current board members and officers, along with those coming on board on July 1, held a planning session to get organized for the coming year. We discussed how we function as a team and keep learning together. We viewed portions of a webinar on courageous leadership and exchanged ideas about leadership and change. We also set goals for the coming year based on our strategic plan and District and Rotary International plans.
One of the areas we talked about was what we could do as the club's leadership team to ensure that every member of the club feels valued and is able to contribute to the club in a way that is meaningful for him or her. We came up with the idea of "Board Buddies."
So soon you will receive a call, an email message, a text or a tap on the shoulder at a club meeting from your Board Buddy. Each board member has five or six members to get to know better.
Your Board Buddy will ask about the best way or ways to stay regularly in contact with you. He or she will want to learn about your interests and strengths and how you may wish to use them to support the club's priorities. Your buddy will also be seeking your feedback periodically on matters affecting the club and will seek to become aware of business or personal events and provide recognition or support when appropriate.
I am looking forward to reaching out to my buddies by the end of the month. I am excited about learning more about them and how I might assist them in meeting their expectations regarding involvement and service in the coming year.
---
A Friendly Club
Tuesday, June 18, 2019
By: John Butterfield
In preparation for becoming your club president on July 1, I have been doing a lot of reading and talking with other club leaders and District 6690 leaders. I've learned that there are deadlines for submitting club goals and grant proposals. I've reviewed a manual about being a club president and in March attended a conference designed to help incoming presidents be successful. I also recently attended the RI Convention, which was very inspirational.
Presidents-elect and other leaders have shared their club's best practices and what they feel makes their clubs strong or what areas they need to work on. I've already learned a lot to help me be a better leader and gained some valuable insights to help our club move forward.
One of the topics that comes up is the atmosphere that exists at club meetings. I've learned that Rotary clubs that have a reputation for being "friendly clubs" usually follow some or all of these practices:
Members are encouraged to sit in a different seat or at a different table each week.

Members are urged to sit with a member they may not know as well as their long-time personal friends.

Members invite new members or visitors to join their table just by saying: "Come join us, we have an empty chair at this table."

Members share the conversation around the table rather than merely eating in silence or talking privately to the person next to them.

Members make a special point of trying to get acquainted with all members of the club by seeking out those they may not know.

Members at friendly clubs have fun. The camaraderie that exists among members is clearly evident.
The people I have met who have attended one or more of our club meetings consistently indicate that we are a "friendly club." They enjoy the interactions among club members, the sense of humor that is exhibited and the lack of formality. They can tell that there is a sense of caring about one another.
While we can all get better at extending ourselves to new members and visitors, I'm proud that our club is know for its friendliness. Can we build even stronger relationships with members and get to know them better? Sure. If you have suggestions, please let me know (jbutter@columbus.rr.com).
And who knows, perhaps in the coming year, instead of roaming the dining room and checking in with members, once in a while I may sit down at a table and enjoy the conversation.
John
---
On a Rainy Weekend DWR Club Members Showed Up to Volunteer
Monday, June 17, 2019
By: John Butterfield
Twenty-five members and five spouses volunteered June 15 and 16 to serve up hot dogs, brats, chips, beverages and ice cream treats at the Worthington Arts Festival. The event, hosted by the McConnell Arts Center (MAC) on the lawn of Thomas Worthington High School and The MAC, featured 150 artists and vendors.
According to Dave Hansen, who along with Jerry Katz, George Norris, Steve Payerle and Wynn Wiksell, coordinated the club's fund-raising activity, the rainy weather did affect the sales, but the club will still have a substantial net profit from the activity. "More importantly, we were able to advertise the presence of Rotary in our community and to enjoy the interactions of the moment with club members and community members," Dave said.
Volunteering for the event were: Ratna Balasubramanian, Pete Barnhart, Jennifer Best, John Butterfield, Christie and Jon Bruffy, Courtney Chapman, Frank and Sharon Dunbar, Jim and Sue Farmer, Mary Greenlee, Dave Hansen, Jerry Katz, Dave and Debbie Kittredge, Shirley Lambert, Nick Linkenhoker, Roe Mauro, Sam Milliron, Don and Marianne Mottley, Mike Moulton, George Norris, Kip Patterson, Steve Payerle, Ann Pechacek, Darnell Perkins, Teresa Russell and Andrew Saneholz.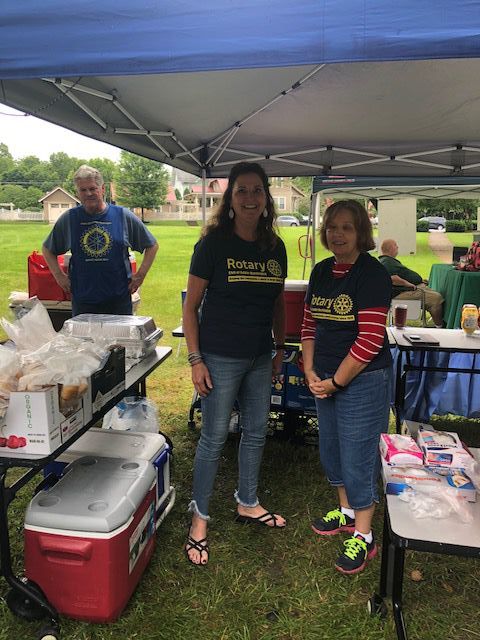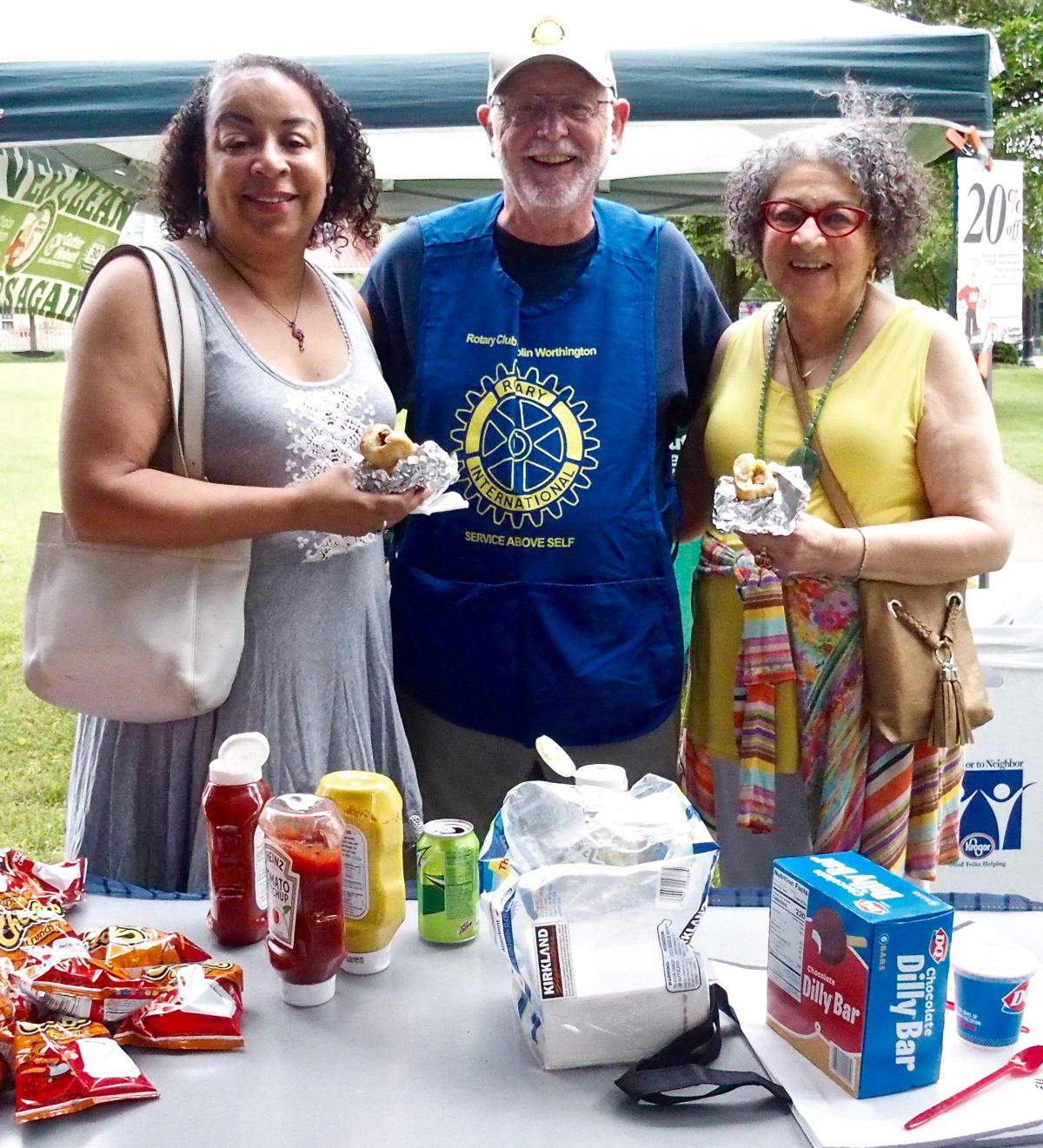 ---
Worthington Arts Festival Volunteers Needed for Club Food Booth (June 15-16)
Friday, June 7, 2019
By: David O. Hansen
Our club will have a food booth at the upcoming Worthington Arts Festival to be held on the Thomas Worthington high school grounds on Saturday, June 15, and Sunday, June 16. We are looking for volunteers to man the booth on both days. You will soon be contacted by a member of our committee about your availability to serve as a volunteer for this event. We are looking for individuals to grill hotdog's and brats and for individuals to take orders.
Last year, those who participated enjoyed the opportunity to interact with other club members and others attending the event. We hope that you will be available and willing to lend a hand.
Dave Hansen
Festival Booth Committee
---
Donald G. Moulton Memorial Golf Outing
Friday, June 7, 2019
By: Michael E. Moulton
In May 1991 we played the inaugural Moulton Memorial golf outing. Don, my father was a founding member of the club. The winner that year was Stan Bahorek. On May 24th 2019 we played the 29th year of the annual event. Some years ago we adopted the addition of a memorial honoree for that year. This year B.J. Stone was the unanimous choice for the designation. The event had 18 golfers and was a great day for golf. Ed Stone BJ's husband was able to attend and play in the outing as my playing partner. After golf we presented the winner trophy to John Jacob who accepted and was pictured with BJ's grandson. Her daughter Aimee was there with her children to see us award the trophy to John. Judy Barnhart took some wonderful pictures of the award presentation along with other pictures of Rotarians and BJ's family. Thank You to everyone that was able to attend this event.



Golf Outing Winner John Jacob with BJ Stone grandson Andrew
---
Club Recognizes Newest Paul Harris Fellows
Friday, June 7, 2019
By: Rich Goldberg
At our June 5th club meeting we recognized 4 new Paul Harris Fellowship recipients:

Mark Beaver- Paul Harris Fellow and Paul Harris Fellow Plus 1- Based upon his recent contributions, Mark qualified for two fellowships- he received both a certificate and a PHF and a PHF+1 pin
Dave Hansen- Paul Harris Fellow Plus 2- Dave was given a PHF+2 pin as he qualified in his own name for a third Paul Harris fellowship.
Jerry Katz- Paul Harris Fellow- Jerry has qualified for Paul Harris fellowships over the years- he has given those previous fellowships to the important women in his life- his mother, his wife, and his daughters. He received a certificate and a PHF pin.
Jim Miller - Paul Harris Fellow- Jim qualified for a Paul Harris fellowship after previously granting one he qualified for to his wife. He was given a certificate and a PHF pin.
Each of these members contributed a $1,000 to the Rotary International Foundation's Annual Fund for each Paul Harris fellowship he had received/qualified for. Their contributions helped our club surpass its annual goal of $9,000 by more than $4,000; our members have also donated more than $1,200 to Polio Plus this Rotary year.

For additional information on Paul Harris Fellows please visit www.rotary.org/en/about-rotary/history/paul-harris-society



From Left: Jerry Katz, Dave Hansen, Mark Beaver, Jim Miller & Rich Goldberg


---
RAH RAH at Porch Growler
Friday, June 7, 2019
By: John Butterfield
Forty-six members and guests attended the May 29 Rotary After Hours (RAH RAH) at the Porch Growler in Worthington. Members sampled the 60 draft selections that the Worthington pub offers and ate pizza from neighboring Pizza Primo. But most of all we enjoyed getting together informally – members, spouses, prospective members and guests – sharing stories, learning about one another and having fun. The youngest attendee, Graham Giessler, 1 year old, accompanied by dad Greg Giessler and grandparents Phil and Carol Giessler
.
---
May 9, 2019 Board Meeting Highlights
Friday, May 24, 2019
By: David O. Hansen
Approved: Club to join the Worthington Chamber of Commerce
Discussed: Rah Rah scheduled for May 29 evening
Discussed: Various aspects of July 4 Family picnic including sponsorships
Discussed: Incorporation of NGSE activity by Int'l Service Committee
Discussed: Upcoming RYLA Conference in Athens, Ohio.
Approved: Motion to transfer some club funds to FC Bank
Discussed: Board Buddy program linking board members to club members
Discussed: Awards and installation ceremony for the new club officers and board
---
Club Meeting Programs Add Value to Rotary Experience
Thursday, May 23, 2019
By: John Butterfield
The program and speakers at our meetings are a very important part of the club meeting experience, and this year's program committee has provided some outstanding speakers on a variety of topics. Kudos and thanks to the committee members: Jim Farmer, chairperson; Pete Barnhart, Dave Hansen, Jim Miller, George Norris, Abe Ottolenghi, Bill Shantz, Tim Shear and Wynn Wiksell.
Good programs help promote regular attendance, as well as support the personal and professional development of members and broaden their understanding of current issues and challenges. Presentations often identify opportunities for service locally and around the world. The program committee is responsible for the scheduling of programs, but all members are encouraged to participate in suggesting and providing programs.
Here's how you can help:
Take part in a brief survey that will help the committee know what kinds of programs are most relevant or meaningful for you. An announcement about the survey was sent to you earlier this week. Deadline to participate is Monday, May 27. Here's the survey link:

https://www.eSurveysPro.com/Survey.aspx?id=70d6758b-ceaa-400e-9cc5-40cbae269d8b
Join the program committee and help develop the program plan for the year. Let co-chairpersons Brian Elder (BElder@parknationalbank.com) or Joe Patchen (BatteryPatchen@gmail.com) know that you want to be on the committee. They are already beginning to plan for next year's programs.
Even if you aren't on the program committee, but you come in contact with a potential presenter or have a program idea during the coming year, let Brian or Joe know so they and their committee members can determine how it fits in with the program plan and schedule. You will likely be contacted for additional assistance in making arrangements and may be asked to introduce the speaker.
Let the program committee know about topics that you would like to know more about during the coming year.
Provide feedback on the programs that the committee has lined up during the year. Did you like them a lot? Not so much. Why? Then provide suggestions for future topics or presenters.
I am looking forward to another year of great programs and speakers. I view these programs as another way I continue to learn and grow as a person. It's one more way Rotary adds value to me as a member.
---
Dublin Worthington Rotary Donald G. Moulton Memorial Golf Outing
Thursday, May 23, 2019
By: Michael E. Moulton
Dublin Worthington Rotary Donald G. Moulton Memorial Golf Outing
2019 Honoree B.J. Stone
May 24, 2019 Glenross Golf Club Delaware, Ohio
Tee times beginning at Noon
Group 1 Jeff Covert Bob McCurdy
Kelly Parton Alan Grossman

Group 2 Mike Moulton John Bader
Tom Reis Dave King
Group 3 Dick Olilla Rich Seils
John Jacob Tom Farwick
Group 4 Pete Barnhart Teresa Russell
Judy Barnhart Dianne Seils
Group 5 Darnell Perkins Dave Hansen
Ed Stone Or Sub Keith Sharick
Please pay the pro shop for your golf:
Sr. cost $34.00 Non Sr. golf $45.00
Prizes provided by social committee funds
We will also have proximity prizes: Long Drive, Closest to the pin and Longest Putt
Scoring will be: Callaway Scoring handicap system

Contact Mike Moulton with questions: 614-507-4395
---
President Elect John Butterfield recognized as Newest Paul Harris Fellow
Thursday, May 23, 2019
By: Bill Shantz
At a recent meeting President Elect John Butterfield was recognized as our newest Paul Harris Fellow. The Paul Harris Fellow program recognizes individuals who contribute, or who have contributions made in their name, of $1,000 to The Rotary Foundation of Rotary International. The honor was established in 1957 to show appreciation for contributions that support the Rotary Annual Fund, PolioPlus, or an approved Foundation grant. It further shows John's committment to Rotary on both the local and international levels. Congratulations!


From Left: DWR President Alan Grossman, newest Paul Harris Fellow John Butterfield & RI Foundation Chair Rich Goldberg
---
Club Member Opens Restaurant in Chillicothe
Friday, April 12, 2019
By:
Congratulations to Timmy McCarthy. His company, RCO Limited, is set to open a new Raising Cane's restaurant this spring at 800 N. Bridge St. in Chillicothe. It will feature a new design, the first of its kind in Ohio, which enhances the already fun, cool and energetic environment for which the chain is known.
Timmy is founder and culture captain of RCO Limited, the largest franchise organization within the Raising Cane's system with approximately 30 restaurants in central Ohio, Cincinnati and Dayton. The Chillicothe location will be the chain's 16th in central Ohio.
The Raising Cane's menu is very specific, offering chicken fingers, fries, garlic toast, cole slaw, drinks and the Cane's signature dipping sauce.
The restaurant chain was originally set to be named Sockeye's Chicken Fingers to commemorate the fishing trips owner Todd Graves used to raise money to start his original restaurant. In the end, however, Raising Cane's found its final moniker in Graves' dog, a yellow Labrador that used to hang around the building site of renovations to his first restaurant. With that canine connection in the franchise's past, the Chillicothe location will include a plumbed dog water bowl that will be available on the patio.
---
FC Bank is our Rotary Family Picnic Presneting Sponsor
Friday, April 12, 2019
By: Bill Shantz
The good folks at FC Bank have agreed to be the presenting sponsor for the Rotary Family Picnic on the 4th of July. Jenny Saunders, President of FC Bank, and her colleagues attended our April 17th meeting for a check presentation. We would like to recognize FC Bank's contribution to this fun, family event and for all they do in our community. Please stop to say thank you at the Worthington branch 6600 N High St.
Pictured from right from FC Bank are Kelsey McFarland, Andrew Shuneson (also a club member) and Bank President Jenny Saunders presenting check to club president Alan Grossman, vice president Bill Shantz and president-elect John Butterfield.
---
MAKING A DIFFERENCE LOCALLY AND GLOBALLY
VISIT US!
We meet on Wednesdays.
First and Second, 7:30-8:45 a.m.
Third and Fourth, noon-1:15 p.m.
Brookdale Trillium
3500 Trillium Crossing
Dublin, OH 43017